World
The Euribor now exceeds 1% and makes mortgages more expensive for four million households | My money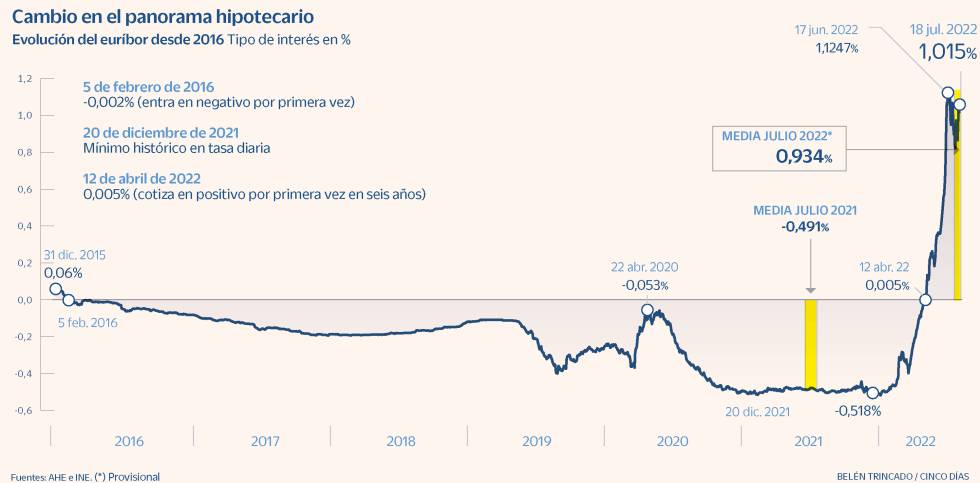 The rise in the Euribor in recent months has given a turn to the mortgage market. The main financial entities have raised the rates of fixed mortgages, going from an average of 1.5% to 3% in just six months. On the contrary, variable-rate mortgages are offering a lower spread in response to the increase in the Euribor. Faced with the dilemma of whether to choose a fixed or variable rate on a mortgage, the OCU states that the decision depends on the rates set by the ECB, which, in turn, will depend on the evolution of inflation and the European economies.
In this context, it has drawn up three possible scenarios: in the first, there would be an initial phase of rise in the Euribor to 1.5% in 2023, reaching 2% in 2024 and remaining stable at around 2% for the rest of the life of the loan. "In this case, the fixed loan is clearly more favorable, with savings of 4,232 euros compared to the variable one," according to his estimates.
In the second scenario, the Euribor would experience "rapid increases" to tackle inflation, reaching 2.5% in 2023. Between 2024 and 2028 there would be a second phase of progressive cuts (0.5 annual points) with the aim of stopping the possible slowdown of the European economies and avoid recession, reaching a minimum of 0.5% in 2027 and 2028. Afterwards, a stable scenario of four years, with the Euribor around 1% followed by a progressive rise until reaching around 2%. "In this situation there are hardly any differences between the fixed and the variable loan," he says.
Finally, in the third scenario, there would also be a rapid initial rise to 2.5% in 2023. Subsequently, it proposes a scenario of recession and more intense rate cuts as of 2024, reaching a minimum of 0.5 % between 2026 and 2028, to move to a normalization scenario, with a progressive rise until reaching 2%. "Here the variable loan would be the most favorable option, since 1,296 euros less would be paid," he indicates.
However, the association points out that in contracting a mortgage "it is better to be prudent and not rush". "Short-term decisions should not be made based on an extraordinary and probably temporary situation such as the invasion of Ukraine and the uncontrolled inflation that it is causing," he says.