News
Public transport will be free on May 29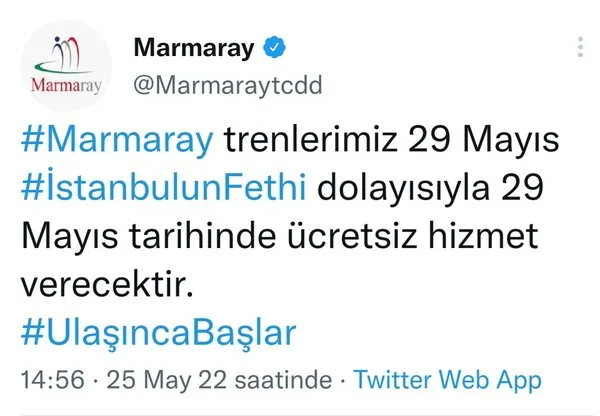 UNANIMOUSLY ACCEPTED
In the proposal decision read by Murat Türkyılmaz, the following statements were included:
"The date of the conquest of Istanbul, May 29, 1453, has taken its place in the pages of history as a turning point that has a very important place in the history of Istanbul and the world, not only the conquest of a city and its lands, but also the New Age that closed the Middle Ages. People of all cultures and beliefs were able to live together in peace, security and justice in Istanbul, and Istanbul became the center of commerce in its geography.
October 6, 1923 is one of the most important days in the history of Istanbul and our country. The enemy occupation, which started on March 16, 1920, lasted for 4 years, 10 months and 23 days, ended on October 6, 1923, after the victory of our War of Independence and the certification of this victory with the Lausanne Peace Treaty. On October 6, 1923, the 3rd Corps under the command of Şükrü Naili Pasha entered Istanbul and officially ended the occupation of imperialism.
For this reason, October 6 is not only a symbol of the liberation of our country and the world's apple of the eye, Istanbul, from enemy occupation, but also of our national unity and independence. Every year, October 6th is celebrated as Istanbul's Independence Day, and May 29th is celebrated as the Conquest of Istanbul. With the awareness that both May 29 and October 6 are one of the most important historical turning points in the liberation and independence of not only Istanbul but also Turkey; We propose to the IMM Assembly that public transportation in Istanbul be free on October 6 and May 29, so that our citizens and all segments of society can accompany the enthusiastic celebrations on these special days.